Vancouver, May 17, 2023 – FPX Nickel Corp. (TSX-V: FPX, OTCQB: FPOCF) ("FPX" or the "Company") is pleased to announce the achievement of a significant milestone in the production of battery-grade nickel sulphate from its Baptiste Nickel Project ("Baptiste" or the "Project") in central British Columbia.  FPX's hydrometallurgical testwork program has resulted in substantial improvements to the refinery flowsheet for the processing of Baptiste's awaruite nickel concentrate, centred in the optimization of the leaching circuit and the resultant simplification of downstream purification requirements.  In addition to demonstrating that awaruite's unique properties lead to an efficient route for producing battery-grade nickel sulphate, the program successfully produced cobalt and copper by-products, which both represent new potential value sources for Baptiste.
Highlights
Testwork performed in collaboration with Sherritt Technologies Ltd. produced nickel sulphate crystals with quality that meets industry-standard battery-grade specifications
Program has lead to substantial optimization of the refinery flowsheet, reducing the number of purification stages, reagent consumption, and equipment sizes, confirming that FPX's awaruite nickel concentrate has clear advantages over competing intermediate feedstocks for the production of nickel sulphate
Results demonstrate the ability to produce cobalt and copper by-products, both contributing to potential for enhanced economics for Baptiste
"The results of our hydrometallurgical testwork program clearly demonstrate the technical advantages of awaruite nickel mineralization to produce battery-grade nickel sulphate, presenting an opportunity to develop a new vertically integrated nickel supply chain in Canada," commented Andrew Osterloh, FPX Nickel's Senior Vice-President, Projects & Operations.  "In addition to processing advantages, the size of the Baptiste resource can produce up to 43,500 tonnes of nickel contained in nickel sulphate per year, enough to fulfill 17% of the projected North American EV battery demand for nickel in 20301, all without displacing any of North America's current smelting and primary refining capacity. These testwork results are currently being incorporated into our preliminary feasibility study ("PFS"), which remains on track for completion in September 2023, where we will be able to further demonstrate Baptiste's potential to deliver low-cost, low-carbon nickel units to the EV supply chain over a 30-year mine life."
Figure 1 – Battery-Grade Nickel Sulphate Crystals Produced from Baptiste's Awaruite Nickel Concentrate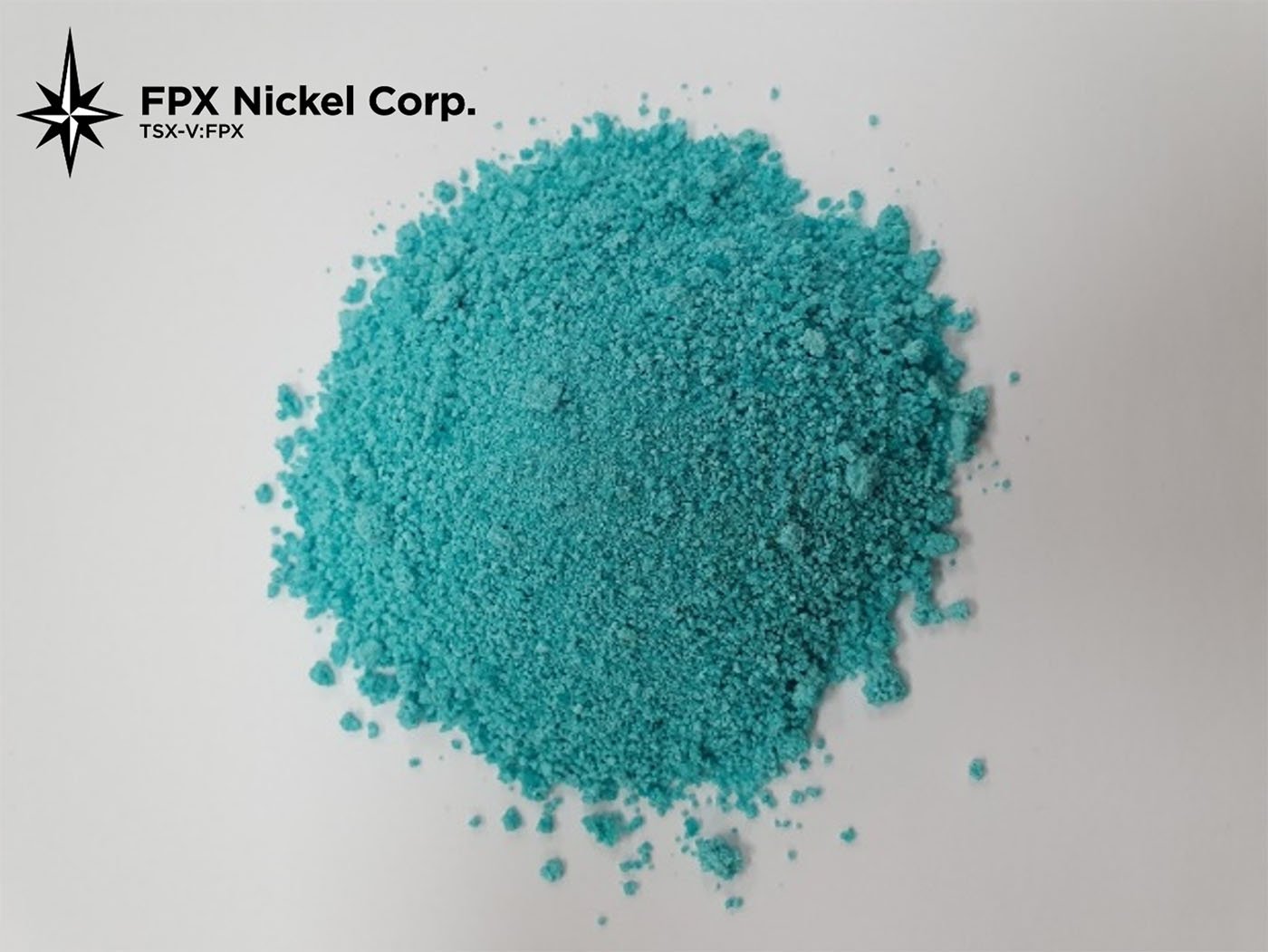 Background
Upstream of EV battery manufacturers are chemical plants producing P-CAM (precursor cathode active material) and CAM (cathode active material) for inclusion into battery cell cathodes.  These chemical plants require nickel inputs to produce P-CAM and CAM, with a preference for nickel sulphate specifically.
Currently, nickel sulphate is primarily produced from the dissolution of LME-grade nickel briquettes or from the refining of nickel intermediate products like MHP (mixed hydroxide precipitate), MSP (mixed sulphide precipitate) and matte.  The results of the testwork program described herein confirm that FPX's awaruite nickel concentrate has clear technical advantages over competing intermediate feedstocks for producing nickel sulphate, offering a more direct processing route for integration into the EV battery supply chain.
Summary
As described in the Company's September 7, 2022 news release, initial leach testwork and a 2022 scoping study highlighted the opportunity to refine Baptiste's high-grade awaruite nickel concentrate (60-65% Ni) to nickel sulphate and cobalt precipitate products.  The initial leach testwork indicated that Baptiste concentrate was readily leachable and produced a high-grade leachate which is low in impurities.  The scoping study outlined a conventional hydrometallurgical flowsheet for direct production of nickel sulphate and cobalt precipitate without the intermediate smelting typically required for sulphide concentrates or the extensive, aggressive pressure oxidation conditions required for laterite ores and nickel sulphide concentrates.
To support the PFS strategy described in the Company's January 17, 2023 news release, the Company has now completed a hydrometallurgical testwork program which has validated and optimized the process flowsheet and criteria; this program will feed into the refinery option for presentation within the Baptiste PFS.   The hydrometallurgical testwork utilized concentrate feedstock generated from the large-scale pilot testwork as described in the Company's January 24, 2023 news release.
The testwork program resulted in substantial improvements to the refinery flowsheet, including:
Confirmation of awaruite's favourable leaching characteristics, with consistently greater than 99% nickel extraction under moderate conditions and short treatment times
Identification of an optimized leaching flowsheet that tangibly improves the leachate quality, reducing previously considered downstream purification requirements
Production of a copper product, which represents a new potential value source for Baptiste
Validation of leachate purification unit operations and resulted in the physical production of nickel sulphate and cobalt precipitate products
Demonstration that nickel sulphate crystals produced from Baptiste's awaruite concentrate have a quality which meets industry standard battery-grade specifications
Based on testwork results, the optimized Baptiste refinery block flow diagram is presented in Figure 2.
Figure 2 – Refinery Flowsheet – Scoping Study vs. Optimized PFS
Testwork Program
Building on previous leach testwork, the Company undertook a hydrometallurgical testwork program to optimize the refinery flowsheet and develop suitable criteria for use in the refinery option which will be presented in the Baptiste PFS.  The Company engaged Sherritt Technologies Ltd. ("Sherritt") to conduct this testwork based on their previous testwork experience with Baptiste material and extensive nickel hydrometallurgical expertise.  FPX's metallurgical team worked closely with Sherritt to optimize a wide range of parameters for each unit operation in the flowsheet.
Feedstock for the hydrometallurgical testwork program was the awaruite nickel concentrate produced from the large-scale pilot testwork as described in the Company's January 24, 2023 news release.  Specifications for this feedstock are presented in Table 1, which also includes a comparison to both the feedstock from previous testwork and the 2022 scoping study.
Table 1 – Testwork Feedstock Characteristics
Element

Current

Testwork Feedstock

Previous

Testwork Feedstock

Scoping

Study

Basis

Nickel (Ni)
66%
65%
63%
Iron (Fe)
25%
25%
30%
Sulphur (S)
0.4%
0.7%
0.6%
Cobalt (Co)
1.1%
1.0%
1.0%
Copper (Cu)
0.4%
1.0%
0.6%
Magnesium (Mg)
0.6%
0.4%
0.6%
As seen in Table 1, feedstock to the hydrometallurgical testwork program is aligned with previous testwork feedstock as well as the 2022 scoping study basis.  Testwork commenced in November 2022 and completed in early May with the production of nickel sulphate crystals and high-grade cobalt and copper by-products.
Leaching
Leaching testwork focused on two key objectives, including (1) optimization of pressure leaching conditions established in previous testwork, and (2) reducing reagent consumption by adding an atmospheric leach stage in a counter-current leach configuration.
A counter-current leach is a common leach circuit configuration, which testwork demonstrates provides an advantage for Baptiste due to the reactivity of the awaruite.  Instead of neutralizing autoclave discharge acid with a purchased chemical, testwork clearly demonstrates that awaruite itself can be used to neutralize the solution.  This more efficiently utilizes acid added in the pressure leaching stage and reduces downstream neutralization chemical consumption.  The remaining awaruite, now partially leached, reports back to pressure leaching to ensure complete extraction and recovery of contained nickel.  This approach also reduces the size of the autoclave since a percentage of the awaruite has already been dissolved in the atmospheric leach stage.
Key results from the pressure and atmospheric leaching testwork are summarized in Table 2.  The breakthrough result is the ability of the atmospheric leach to not only remove all free acid from the pressure leach discharge, but also the complete removal of all iron impurities.  This confirms awaruite as an effective neutralizing agent, having the ability to increase the atmospheric leach pH to a sufficiently high level to permit complete iron removal. This complete removal of iron eliminates a previously considered downstream impurity precipitation unit operation.
As atmospheric leach serves as an extremely effective solution purification operation, with no reagent costs, pressure leaching can be simplified by removing the requirements to produce a low impurity solution.  This provides new flexibility to focus pressure leaching solely on optimizing the balance between nickel recovery and residence time.  Table 2 presents a summary of leach testwork results compared with previous leach testwork and the 2022 scoping study.
Table 2 –Baptiste's Scoping Study Leach Assumptions vs. Optimized Testwork Results
Current Testwork Results
Previous Testwork Results

Scoping Study Basis

Atmospheric

Leach

Stage

Pressure

Leach

Stage

Leaching Requirements:
  Pressure (kPag)
0
750
750
850
  Temperature (°C)
85
150
150
150
  Residence Time (hours)
4.0
2.0
3.0
2.5
Final Nickel Extraction (%)
99.1-99.8
98.5-99.5
98.5
Final Leach Solution:
  Nickel (g/L)
100
70
70
  Iron (g/L)
<0.001
0.8-2.5
0.5
  Free Sulphuric Acid (g/L)
0 (pH 5.0)
10-25
25
As seen in Table 2, the optimized leach circuit results in a substantial increase in leachate nickel concentration, now 100 g/L versus previous 70 g/L.  This simplifies the circuit water balance and reduces the size of downstream purification equipment due to the more concentrated stream resulting in lower volumetric flows.
The final leach circuit optimization was the inclusion of a copper cementation stage to precipitate and recover copper.  Taking advantage of awaruite's reductant properties, cementation tests using pressure leach discharge and awaruite concentrate resulted in high copper removal efficiencies into a high-grade copper by-product.  This permits effective recovery of the copper contained in the awaruite feedstock and though of modest quantity (with copper representing less than 1% content in the awaruite concentrate), this copper product represents a new potential source of value for Baptiste.
Solution Purification and Crystallization
Solution purification testing focused on validating the use of conventional nickel purification technologies to produce a nickel sulphate solution of sufficient purity to be crystallized into a nickel sulphate product suitable for use in the EV battery supply chain.  Due to the high quality of leachate produced, purification requires only two unit operations; cobalt solvent extraction for removal of cobalt from the leach solution, and nickel solvent extraction for the concentration and final purification of nickel sulphate. It is noted that Baptiste's two-stage purification process is relatively simple compared to the four stages of purification which are typically required when producing nickel sulphate from mixed sulphide precipitate ("MSP"), mixed hydroxide precipitate ("MHP"), or sulphide concentrates feedstocks. The reduced purification circuit complexity is reflective of the low impurities inherent in Baptiste's awaruite concentrate and its efficiency in removing free acid and iron impurities in the new atmospheric leach stage.
The cobalt solvent extraction operation successfully extracted over 99% of cobalt with minimal co-extraction of nickel.  The cobalt was recovered in a strip solution which was then used to generate cobalt precipitate products.  Testwork demonstrated the flexibility to produce both cobalt hydroxide and cobalt sulphide precipitates, with produced precipitates grading 40% and 39% cobalt, respectively. With demonstration that production of either product form is technically viable, the final commercial selection can be tailored to meet the market's preferred product.
The cobalt-barren solution from cobalt solvent extraction was then processed through nickel solvent extraction which successfully extracted over 99% of the nickel with minimal co-extraction of magnesium, the key impurity to be rejected at this stage.  The resultant nickel strip solution was then subjected to batch crystallization to produce nickel sulphate crystals (see photo in Figure 1).  Assays of the produced crystals are presented in Table 3 along with a target specification for battery applications.  As clearly shown, the Baptiste product meets or betters target specifications for all elements of interest.
Table 3 – Baptiste Nickel Sulphate Crystal Quality vs. Target Specification
Element
Units
Nickel Sulphate Crystals
Baptiste Testwork
Target Specification
Ni – Nickel
wt%
>22
>22
Al – Aluminum
ppm
<1
<5
As – Arsenic
ppm
<1
<2
Ca – Calcium
ppm
<1
<5
Cd – Cadmium
ppm
<1
<1
Co – Cobalt
ppm
1
<50
Cr – Chromium
ppm
<1
<3
Cu – Copper
ppm
<1
<3
Fe – Iron
ppm
1
<3
K – Potassium
ppm
3
<10
Mg – Magnesium
ppm
<1
<5
Mn – Manganese
ppm
<1
<5
Na – Sodium
ppm
2
<20
Pb – Lead
ppm
<1
<2
Si – Silicon
ppm
<2
<10
Zn – Zinc
ppm
2
<5
With the completion of the hydrometallurgical testwork reported herein, the Company has completed the PFS metallurgical test program.  The program has successfully validated the Baptiste processing strategy and lead to optimization of the processing flowsheet and key process parameters.  Later in the second quarter of 2023, following completion of the PFS process design, the Company plans to issue another news release summarizing the final recovery basis for Baptiste based on the PFS process design.
References:
Goldman Sachs Commodities Research, "Nickel's Class Divide", April 28, 2022.
Qualified Person
Kyle Marte, P.Eng., FPX's Principal Metallurgist and Qualified Person under NI 43-101, has reviewed and approved the technical content of this news release.
About the Decar Nickel District
The Company's Decar Nickel District represents a large-scale greenfield discovery of nickel mineralization in the form of a naturally occurring nickel-iron alloy called awaruite (Ni3Fe) hosted in an ultramafic/ophiolite complex.  FPX's mineral claims cover an area of 245 km2 west of the Middle River and north of Trembleur Lake, in central British Columbia.  Awaruite mineralization has been identified in several target areas within the ophiolite complex including the Baptiste Deposit and the Van Target, as confirmed by drilling, petrographic examination, electron probe analyses and outcrop sampling.  Since 2010, approximately US $28 million has been spent on the exploration and development of Decar.
Of the four targets in the Decar Nickel District, the Baptiste Deposit has been the focus of increasing resource definition (a total of 99 holes and 33,700 m of drilling completed), as well as environmental and engineering studies to evaluate its potential as a bulk-tonnage open pit mining project.  The Baptiste Deposit is located within the Baptiste Creek watershed, on the traditional and unceded territory of Tl'azt'en Nation and Binche Whut'en First Nation, and within several Tl'azt'enne and Binche Whut'enne keyohs. FPX has conducted mineral exploration activities to date subject to the conditions of our agreements with the Nations and keyoh holders.
About FPX Nickel Corp.
FPX Nickel Corp.  is focused on the exploration and development of the Decar Nickel District, located in central British Columbia, and other occurrences of the same unique style of naturally occurring nickel-iron alloy mineralization known as awaruite.  For more information, please view the Company's website at www.fpxnickel.com or contact Martin Turenne, President and CEO, at (604) 681-8600 or [email protected].
On behalf of FPX Nickel Corp.
"Martin Turenne"
Martin Turenne, President, CEO and Director
Forward-Looking Statements
Certain of the statements made and information contained herein is considered "forward-looking information" within the meaning of applicable Canadian securities laws.  These statements address future events and conditions and so involve inherent risks and uncertainties, as disclosed in the Company's periodic filings with Canadian securities regulators.  Actual results could differ from those currently projected.  The Company does not assume the obligation to update any forward-looking statement.
Neither the TSX Venture Exchange nor its Regulation Services Provider accepts responsibility for the adequacy or accuracy of this release.